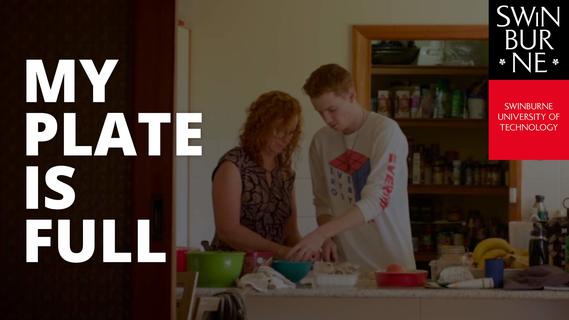 My plate is full
My plate is full
A vegetarian who smokes. An athlete with insomnia. A gym-loving gamer who wants to take it all on. A single mum who obstinately battles the odds.

Are they able to give themselves what they need to keep on keeping on? What's driving them forward? And do they recognise how quietly superhuman they each are?
Liked the film? Read on to arm yourself with info.
Cheap eats beyond the checkout

And a few other hot tips on where to get a deal. (5 min read)

Food banks debunked

Hint: You don't need to wait till you hit rock-bottom to get help. (4 min read)

Your food may be keeping you up at night

Time to tame that soda/coffee/sugar habit. (4 min read)

Feeds for a fiver: Have you met John West?

The humble tin of tuna gets a makeover. (3 min read)

The cheapest, healthiest bites at Macca's

Got a Macca's craving? Here's how to minimise the 'damage' and guilt. (2 min read)

Pantry hacks every student should know

No fancy ingredients needed for tasty, easy meals. (4 min read)

Feeds for a fiver: Savoury hotcakes

A hotcake is the delicious glue that makes healthy veggies tasty too. (3 min read)

Feeds for a fiver: Toasties fit for a queen

Make one savoury and one sweet. Voila, two-course meal. (2 min read)

When life dished out lemons, Jen studied Justice

Becoming a mum at 15 didn't stop Jen from doing her family right. (8 min read)