Living on campus makes accessing classes and uni facilities super easy. Find out what it's like below and check out all the options available at Swinburne Hawthorn. 
Live on campus this semester
Ready to join our community?
You can live on campus at Hawthorn and join the fun and dynamic group who call Swinburne home – in more ways than one.

Apply for accommodation now
Join our community
Get social by living at our Hawthorn campus. There's more to living on campus than being close to class.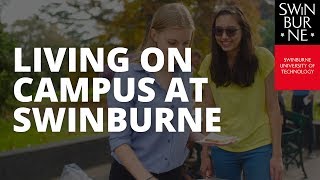 Living on campus at Swinburne
Accommodation support team
At Swinburne, we have a dedicated accommodation support team that are available during working hours, and duty resident advisers after-hours, who can help with any problems you may experience on campus.
If you have a problem, or just want to talk to someone, chat with our friendly on-campus resident advisers (they can even help you organise events and activities).
Contact the Student Residences team
On-campus living options
At Swinburne, you can stay in college rooms, studio apartments or shared apartments. Explore your options with our virtual tours.
College rooms
Living on campus in the residential college can be a life-changing experience!
Newly refurbished for August 2022, the college gives you access to a vibrant on campus social life with the comfort of your own private bedroom.
Facilities
Dormitory-style single occupancy rooms, with common dining, kitchen and social areas
Resident Advisers are on hand to facilitate an inclusive and fun residential experience, and to assist with any issues with living on campus.
Updated for 2022, our college rooms include a bed, chair and desk, hand basin and lots of storage space. Laundry and bathroom facilities are all communal.
Costs
$310 per week
Shared apartments
Apartments on campus accommodating two to four people offer greater independence and are perfect for students wanting more privacy than college rooms. 
Sharing an apartment is a great way to build friendships that last a lifetime while you study at Swinburne.
Facilities
In shared apartments, all residents have their own private room. You can choose to live in a standard room, or a larger and slightly more costly 'deluxe' room. All bedrooms in the shared apartments have basic furniture included such as a bed, desk and chair. All shared apartments include:
a lounge room with a TV and couches
a kitchen with basic cooking equipment (kettle, toaster)
one or two bathrooms.

Costs
All costs are in Australian dollars per week and include all bills.


Two-bedroom apartment:
Standard: A$299
Deluxe: A$314

Three-bedroom apartment:
Standard: A$284
Deluxe: A$299

Four-bedroom apartment:
Standard: A$276
Deluxe: A$280
Studio apartments
Studio apartments on campus offer the ultimate in privacy and independent living.
If you prefer to live alone, a studio apartment may be the most suitable housing arrangement while you are at Swinburne.
Facilities
All studios include basic furniture such as a bed, chair and a desk. They also include your own bathroom and kitchen complete with simple cooking equipment such as a toaster and kettle.
Laundry facilities are on the same floor in a communal area. There is also a common room for students living in on-campus apartments.
Costs
All costs are in Australian dollars per week and include all bills.
Standard: A$358
Deluxe: A$399
Explore the benefits of living on campus
For many students, their first experience of living away from home is through our on-campus accommodation. Living on campus is a great way to grow your independence and meet new people – all within a safe and supportive environment.
Things to do in Hawthorn

Our Hawthorn campus boasts state-of-the-art learning facilities. Surrounded by an array of cafés, restaurants, bars, boutiques, and bookshops on Glenferrie Road, our Hawthorn campus provides the perfect environment for an amazing student lifestyle.

Events

At Swinburne, we host fun activities throughout the year, at all our campuses.

Hawthorn campus

Located in the heart of Hawthorn, our main campus location 10 minutes from Melbourne's CBD offers the perfect mix of  state-of-the-art learning facilities and unforgettable  student experiences.
Support available to student residents
When you live on campus, you're not just getting a place to live while you study: you're joining a community. Living on campus also gives you access to our on-campus support and health services. This includes 24-hour security, assistance from our support staff and professional medical and counselling services.
We offer comprehensive professional health and medical services to support the mental, physical and emotional wellbeing of the Swinburne community. This includes nurses, doctors, physiotherapists, psychologists, counsellors and social workers. We also offer discounts to local sporting facilities so you keep active and make new friends.
Our resident advisers, who are senior residents on campus, are here to support your transition into life on campus. When you move in, you'll be introduced to the resident adviser in your building or on your floor. If you're homesick, have questions about the residences, or just need someone to talk to, your nearest resident adviser is there to help.
Resident advisers are on call between 5pm and 9am on weekdays and around the clock on public holidays and weekends. They can help you:

check in between 5pm and 12am
get access to your room or apartment if you've locked yourself out
deal with noise disturbances in the residences.
Our admin support staff can help you with:
general enquiries
checking in to the residences
scheduling appointments to meet with staff
access to your room or apartment during office hours or if you have lost your key card, etc.
Note: Admin staff are located in the Swinburne Student Residences administration office, 24 Wakefield Street, Hawthorn. Office hours are Monday to Friday, 9am to 5pm. The office is closed on public holidays and the Christmas and New Year period.

The residential handbook is a fantastic resource for students in residence. It covers important information about support contacts and what to expect in student residences.
The residences code of conduct outlines what's expected of you in residence. You'll need to read the code of conduct before you sign your licence agreement.
In the student residences, a licence agreement is like a contract. All students will also need to sign and submit the licence agreement acknowledgement form when they move in.
Are you under 18?
The Residences is an adult environment and as such, there should be some level of parental involvement and approval for applicants who are under 18 years old.
In some circumstances, these applicants and their parent/s may be asked to participate in an interview with a residential staff member as part of the application process.
Looking to rent off campus?
Renting a place by yourself, or with other students, can be an important learning experience and a lot of fun.
If you're looking to rent off campus, click here to view a range of resources that are designed to help you find the perfect accommodation.
Check your eligibility and apply for on-campus accommodation
Applying for on-campus accommodation is easy. All applications are made online via the Swinburne residences portal.

Apply now