A Bachelor of Engineering (Honours) (Professional) student from China
Wendy graduated with more than two years of real industry experience on her resume
"I reckon Swinburne has helped me a lot, especially as an international student. I graduated with over two years worth of real industry experience. And unlike other engineering students, I was never a graduate engineer. My first role after graduation was a design engineer, which has accelerated my career," says Wendy.
She is currently a civil engineer at Taylor Thomson Whitting, one of the largest independent structural engineering consultancies in Australia, having made a few clever moves since completing her Bachelor of Engineering (Honours) (Professional) in Civil Engineering.
The 'professional' word in Wendy's degree means that her course incorporated a 12-month work placement within an established organisation – in her case, as a student engineer at Bass Coast Shire Council. For those who don't know, Bass Coast is a beautiful seaside region roughly 130 kilometres south east of Melbourne. It's most well-known for Phillip Island and the penguins that live there.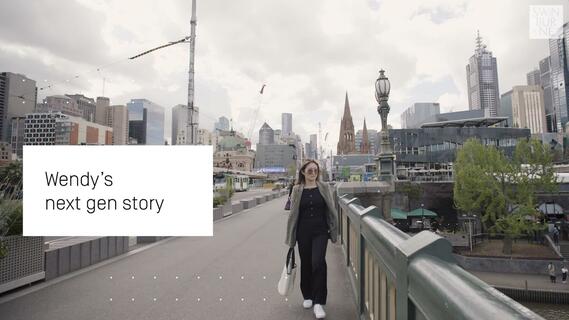 Meet Wendy
View video transcript [PDF 229KB]
Getting a headstart
Wendy feels that she was given many responsibilities and opportunities at Bass Coast Shire Council. She learnt a lot on the job while also being able to put her university lessons into practice. Town councils in Australia are responsible for providing services to their local community – from taking care of building regulations and development to maintaining and upgrading roads, footpaths and parks. In her role, she worked on council projects like tennis court improvements, road designs and easement drainage upgrades.
To secure the placement, she went through an interview and application process that was very similar to an actual job search. "It was good practice," Wendy says. "First, I had to write a cover letter and a resume. My teachers and advisers then helped me polish my resume. After that, I was given access to the online placement job board. I had to apply for placements, wait to be called back, go for interviews and undergo reference checks before I finally landed the role!"
But the hard work was worth it. Bass Coast Shire Council asked Wendy to continue in the student engineer role beyond her placement period. When she graduated, she transitioned into the design engineer position.
"I'm so glad that I chose Swinburne. People at work – in my current and previous jobs – think that Swinburne students are more practical in their approach."

Wendy , Bachelor of Engineering (Honours) (Professional)
Standing out among competitions
Soon after, she was headhunted by another council, and as they say, the rest is history. "I'm so glad that I chose Swinburne. People at work – in my current and previous jobs – think that Swinburne students are more practical in their approach. I've met many colleagues, some more senior than me, who are also Swinburne engineering graduates," says Wendy.
Of her current role, she says, "I love it at Taylor Thomson Whitting. I've picked up so much – water sensitive urban design, civil 3D design software, collaboration and communication. I also get to engage with external architects and landscape designers."
Enjoying a dynamic career
"On an average day, I catch the train to my office in the city. I'm usually working on multiple projects at one time. Right now, I have a school extension, a playground and footpath upgrade, and a skatepark plus carpark project. I catch up with my team lead weekly and meet clients every fortnight or so."
"What I enjoy most is the culture. It's a growing company with young engineers, passionate about their work and full of energy. It's also a very diverse and supportive environment. I couldn't ask for more," says Wendy with a big smile.
As for the future, Wendy hopes to become a senior engineer in two years. She's also thinking about signing up for a master degree in project management and hopes to continue rising in the ranks of her industry. She'd like to continue living and working in Australia, but may be keen to see what the other states in Australia have to offer.
Chat to our students from China
Guaranteed real industry experience
Swinburne ensures all students can access industry experience as part of their course, whether it's a placement, internship or an industry-linked project. It's our Work Integrated Learning (WIL) guarantee!
If you're interested in a placement, you can even choose a Professional Degree, which comes with a 12-month full-time paid Professional Placement opportunity.
Learn more about our WIL guarantee
Scholarships for international students
Swinburne has a range of scholarships just for international students. If you're awarded one, you can focus less on finances and more on learning and experiencing life at Swinburne and in Melbourne.
The best part? Every international student application is automatically considered for a scholarship, so you won't need to submit a separate application.
Browse our scholarships for international students
Built Environment and Architecture

Design sustainable spaces and buildings for the future

Engineering

Build new products, structures, systems — change our world

Science

Learn to satisfy your natural curiosity and help us understand the world

Find a course

Search our degrees, diplomas and master programs, and find information about pathways to a degree. Explore a range of flexible study options to suit your needs and career goals. 
Find out more about Swinburne
Hear more from our international students
Bachelor of Design (Communication Design) (Honours)

Erina's story

Indonesia

Energetic Erina talks about all the ways she's gathering experience for her career.

Bachelor of Business

Alex's story

Myanmar

International student Alex is creating a resume employers will want to chat about.

Bachelor of Computer Science (Professional)

Thao's story

Vietnam

International student Thao highlights her reasons to study computer science at Swinburne.

International student stories

Discover how students from all over the world are enjoying life at Swinburne while successfully building a career in Australia and their home countries.
Ready to start your own story at Swinburne?
Our friendly International team is available to support you all the way. Talk to us to find out more about your study options, entry requirements, fees and scholarships, life in Melbourne and more.
Talk to us