A Master of Business Information Systems student from Sri Lanka
Getting a qualification in information technology is an excellent move for international student Sachi
Sachindra (or Sachi, as she prefers to be called) is about to begin the final year of her Master of Business Information Systems here at Swinburne University of Technology. As she prepares to finish her degree, she recently took the time to reflect on her choice of degree, a decision she says was influenced by what she saw happening in the world around her. 
"Especially during the pandemic, it was pretty apparent how much IT was affecting every industry, and that every industry and every organisation would need advisory services," she explains. "I knew that having a qualification in IT would be very useful in this environment."
We spoke to Sachi to hear more about her study journey at Swinburne, her hopes for the future and her advice for fellow international students.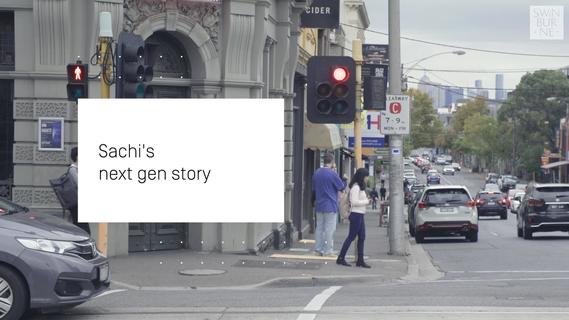 Meet Sachi
View video transcript [PDF 165KB]
Why Sachi choose Swinburne
According to Sachi, it wasn't only the choice of degree that struck her as a great way to protect the sustainability of her career – it was also the choice of institution. She shares that Swinburne has an excellent reputation in her homeland of Sri Lanka, largely for its career integrations and innovative practices.
With a background in law, Sachi has found it a bit easier to keep up with the more technical aspects of her degree. That said, she has also appreciated the accessibility of her degree, which even extends to students without significant IT experience.
Calling it a good investment in her future career, Sachi's study experience at Swinburne has been made even more enjoyable thanks to the hands-on approach to learning.
"At Swinburne, it is a more participatory approach," Sachi explains. "What we have on campus are workshops where we are not just listening; we are actively participating in discussions with the lecturers."
Learning through technology
Sachi also appreciates how well-integrated technology is into the learning experience at Swinburne.
"Swinburne has a good online learning platform, and we can interact with the lecturers online and even talk to other students online," she explains. "So, when our studies moved to 100 per cent online last semester, I didn't feel a huge disruption."
Sachi says she received a lot of support from Swinburne's teaching staff when classes moved online. Despite the unique challenges of virtual workshops and tutorials, lecturers and tutors encouraged students to participate in discussions just as they would have in the classroom.
"They really went the extra mile," Sachi says.
Even without face-to-face classes, Sachi adds that she felt connected to her fellow students and Swinburne teaching staff. She explains that lecturers and tutors made efforts to ensure course material was understood, and that students were able to voice any questions or concerns.
Connecting with fellow students
In the wake of the pandemic, fostering connections has inevitably become more difficult – but that hasn't stopped Sachi from getting involved. In fact, Sachi is a member of both the Swinburne Christian Union and the Swinburne Sri Lankan Students Association.
"Swinburne has a huge Sri Lankan community and the Swinburne Sri Lankan Students Association is very active. They organise a lot of events throughout the year," Sachi explains.
According to Sachi, the association coordinates a wide range of culturally relevant events, including Baila nights, Kothu nights, cricket tournaments and cultural celebrations.
"What we have on campus are workshops where we are not just listening; we are actively participating in discussions with the lecturers."

Sachi , Master of Business Information Systems
An insight into her industry
While Sachi hasn't leveraged Swinburne's Work Integrated Learning (WIL) initiative yet, she has benefited from Swinburne's wealth of industry knowledge.
"A lot of our tutors have industry experience, and they always share with us during the online sessions and workshops," she explains.
Like all Swinburne degrees, the Master of Business Information Systems includes ways for students to gain hands-on industry experience. This year, Sachi will work on a research project which will allow her to put the skills and knowledge she has gained in the classroom into a real-world context.
Sachi also likes the assessment process at Swinburne. At the institution where Sachi completed her undergraduate degree, an exam-centric approach meant that she was assessed only once a year on all course content. At Swinburne, students are assessed throughout the year, meaning they are able to focus on individual areas of study.
An outstanding global reputation
When Sachi finishes her degree at the end of this year, her focus will shift to building her professional career. For Sachi, this means concentrating on professional development, networking and becoming a member of professional associations.
Given Swinburne's excellent international reputation, particularly in Sachi's home of Sri Lanka, Sachi is confident this will open doors for her when she goes back to start a new professional chapter.
Sachi's message for international students
To potential future students, Sachi gives the following advice: pick a university that has a good reputation in your chosen field. For Sachi, this was paramount in choosing to study at Swinburne, which boasts an impeccable reputation for IT-based courses.
Aside from academic matters, Sachi says it's also a good idea to look at other services provided by the university. These include extracurricular activities and student support services like counselling and academic support.
Another bonus for Swinburne is its location, and Sachi highlights that this is not to be undervalued. She notes that location and accessibility are important factors in enjoying your student experience. Proximity to amenities like cinemas, theatres, shopping strips and nature means that students can easily find ways to relax in their downtime.
After all, Sachi concludes, the student experience should be an enriching one both in and out of the classroom.
Chat directly to Sachi
Guaranteed real industry experience
Swinburne ensures all students can access industry experience as part of their course, whether it's a placement, internship or an industry-linked project. It's our Work Integrated Learning (WIL) guarantee!
If you're interested in a placement, you can even choose a Professional Degree, which comes with a 12-month full-time paid Professional Placement opportunity.
Learn more about our WIL guarantee
Scholarships for international students
Swinburne has a range of scholarships just for international students. If you're awarded one, you can focus less on finances and more on learning and experiencing life at Swinburne and in Melbourne.
The best part? Every international student application is automatically considered for a scholarship, so you won't need to submit a separate application.
Browse our scholarships for international students
Business

Lead, innovate and succeed in any industry

Information Technology

Be at the forefront of the digital transformation sweeping through our lives

Law

Learn to think creatively and start solving the unsolvable

Find a course

Search our degrees, diplomas and master programs, and find information about pathways to a degree. Explore a range of flexible study options to suit your needs and career goals. 
Find out more about Swinburne
Hear more from our international students
Master of Science (Network Systems)

Chinmayi's story

India

With a fascination of internet networks, international student Chinmayi is living her dream.

Master of Professional Engineering

Jagannatha's story

India

Robotics student Jagannatha enjoys giving back to Swinburne's international students.

Master of Design

Florentina's story

Indonesia

International student Florentina has fully embraced on-campus life at Swinburne.

International student stories

Discover how students from all over the world are enjoying life at Swinburne while successfully building a career in Australia and their home countries.
Ready to start your own story at Swinburne?
Our friendly International team is available to support you all the way. Talk to us to find out more about your study options, entry requirements, fees and scholarships, life in Melbourne and more.
Talk to us