A Bachelor of Business student (majoring in Finance) from Myanmar
International student Alex is creating a resume employers will want to chat about
Alex is determined to make the most of his university experience, or at the very least, collect student ambassador roles. To date, he's interviewed for and successfully secured ambassador positions for international students at Swinburne College (where he completed his foundation studies) and most recently at Swinburne University of Technology.
Born in Mandalay, Myanmar, he's also President of the Swinburne Burmese Students Association and the Environmental Representative for the Student Union. Alex thrives on helping his fellow students – current and future, local and international – and he makes sure to use all his platforms to reach them. "I enjoy talking to everyone and giving them the information they need to navigate uni. I do this through my ambassador and club roles, the Union's weekly barbecues and other events. I just show up and chat with the new students," he says.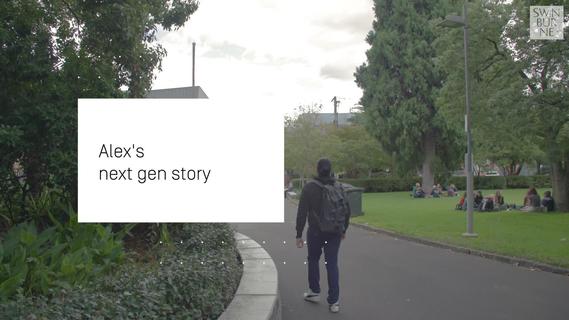 Meet Alex
View video transcript [PDF 166KB]
Networking and absorbing knowledge
In addition, he's joined Beta Alpha Psi, an honour organisation for finance students. "Not too long ago, they held a networking event at KPMG where I met finance professionals. This will lead me to other volunteering opportunities as well," says Alex. "I know I'm involved in lots of things, but they make interesting talking points on my resume."
He has ambitions of becoming an investment banker and is very much inspired by his lecturers and tutors. "When you're trying to grasp a new concept in finance, an explanation in a textbook is not always enough. My lecturers are great – they can summarise complex concepts in two or three slides; they make everything so easy to understand," he says.
"My lecturers are great – they can summarise complex concepts in two or three slides; they make everything so easy to understand."

Alex , Bachelor of Business (majoring in Finance)
Collaborating in the classroom
A highlight so far has been a class called Portfolio Management, in which his group was tasked to analyse Qantas airline's financial data. Said Alex, "The brief was to consider how well Qantas had weathered the pandemic, how big their debt was, whether they were making a profit or loss, and their overall financial position." He continued with, "As a team, we wrote a report on our findings and had to make a recommendation as to whether Australians should invest in Qantas shares."
Not only did Alex learn about analysing risk and return, he picked up many soft skills which will serve him well in the workplace. "With group projects, there's a lot of coordination. Everyone has different opinions on priorities. We have to give each other feedback diplomatically and try to align our thinking. I still have so much to learn!"
Preparing for a big career in finance
Alex is looking forward to gaining more real industry experience. Next semester, he will take a unit titled Industry Consulting Project, where he will have ample chance to apply his newly sharpened interpersonal communication skills on both client and team members. Following that, he is keen to find an internship within an established organisation like PwC, Commonwealth Bank or National Australia Bank (NAB).
He's also already identified potential gaps in his country's finance industry and sees opportunity in bringing home his learnings to shake things up. With his drive and resolve, we have no doubt that he is the next gen that Myanmar needs.
Chat directly to Alex
Guaranteed real industry experience
Swinburne ensures all students can access industry experience as part of their course, whether it's a placement, internship or an industry-linked project. It's our Work Integrated Learning (WIL) guarantee!
If you're interested in a placement, you can even choose a Professional Degree, which comes with a 12-month full-time paid Professional Placement opportunity.
Learn more about our WIL guarantee
Scholarships for international students
Swinburne has a range of scholarships just for international students. If you're awarded one, you can focus less on finances and more on learning and experiencing life at Swinburne and in Melbourne.
The best part? Every international student application is automatically considered for a scholarship, so you won't need to submit a separate application.
Browse our scholarships for international students
Arts, Humanities and Social Sciences

Learn how the world works through an understanding of arts and society

Business

Lead, innovate and succeed in any industry

Law

Learn to think creatively and start solving the unsolvable

Find a course

Search our degrees, diplomas and master programs, and find information about pathways to a degree. Explore a range of flexible study options to suit your needs and career goals. 
Find out more about Swinburne
Hear more from our international students
Bachelor of Computer Science (Professional)

Thao's story

Vietnam

International student Thao highlights her reasons to study computer science at Swinburne.

Bachelor of Engineering (Honours) (Professional)

Wendy's story

China

Wendy graduated with more than two years of real industry experience on her resume.

Bachelor of Design (Communication Design) (Honours)

Erina's story

Indonesia

Energetic Erina talks about all the ways she's gathering experience for her career.

International student stories

Discover how students from all over the world are enjoying life at Swinburne while successfully building a career in Australia and their home countries.
Ready to start your own story at Swinburne?
Our friendly International team is available to support you all the way. Talk to us to find out more about your study options, entry requirements, fees and scholarships, life in Melbourne and more.
Talk to us