Recently graduated high school and looking to start university? Always wanted to travel to Australia? The freshman abroad program is for you if you want to kick your university experience off with a bang and combine your studies with a dash of adventure.
If you're looking for a unique and exciting opportunity to study your first year of university in Australia, the Freshman Abroad program is designed for recently graduated high school students to undertake approved subjects of study for credit towards your 'home' university degree.
Your semester studying in Australia will be spent in one of the country's most cosmopolitan, energetic, artsy, food-loving, sports-mad cities — Melbourne. Through the program, you'll also learn about Australia's culture, history, and natural and social environment to further enrich your learning.

On top of all this, the Freshman Abroad program features additional services and guaranteed on-campus accommodation, so you can get the full university experience.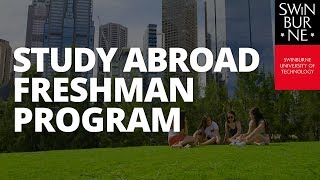 Study Abroad – Freshman Program
Freshman Abroad program details
Duration

The Freshman Abroad program allows you to experience studying in Australia for one and/or two semesters.

Eligibility

To qualify for the Freshman Abroad program you must be:
a recent high-school graduate, or
a student enrolled at a university that offers a Freshman Abroad program
if you choose design or film and television units you may be required to submit a portfolio with your application showcasing work of an appropriate standard.
Course load

Three or four units (subjects) per semester.

Key considerations
Freshman Abroad students can choose to add a Study Abroad Certificate of Specialisation to their studies.
To qualify for the certificate, you must complete two units from any one discipline. Or you can qualify for a dual certificate of specialisation if you complete two units from each of two disciplines.
Semester 1 (February – June) deadline: Not available
Semester 2 (July – November) deadline: 30 April
On-campus accommodation

Learn about the different types of accommodation on Swinburne's Hawthorn campus, including private and shared accommodation options.
Ready to apply for the Freshman Abroad program?
Want to start a new adventure and study in Australia? Here's how to apply for the Freshman Abroad program.
How to apply