Love working with your hands and have a practical mind? Forge a career in an industry that is vital to building the infrastructure that improves our towns and cities.
Develop the skills to enter the industry at a trade level and learn to interpret technical drawings, safely use a variety of hand and power tools, operate industrial machinery and practise the art of welding to industry standards through our Certificate III courses in the fabrication and mechanical trades.
If you're looking to open further opportunities within the industry, the Certificate IV in Engineering course will allow you to develop your skills in fabrication and specialise in CNC Machining, Maintenance and Fluid Power, and Welding.
Swinburne's engineering apprenticeship courses will help you create a successful career in an industry that is building the world around us.
Change of Preference Expo
Get personalised course advice and preference support to find your place at Swinburne, no matter what your ATAR. Tuesday 12 December, Hawthorn campus.
Engineering student projects
Connect with industry: Engineering student projects
Swinburne is preparing students for work beyond their degree. See how our engineering students are connecting with industry before they graduate.
An undergraduate degree must be about more than just knowledge – it's also job readiness, professional experience and access to further opportunities.
We partner with leading Australian and global organisations to offer students authentic workplace experiences. Our degrees can include placements, internships, industry-linked projects, study tours and more. This is your chance to work on real-life projects, solve day-to-day challenges in your field and gain the professional skills that put knowledge into practice. You'll build invaluable skills and confidence, knowing you have what it takes to land a job by graduation or even before.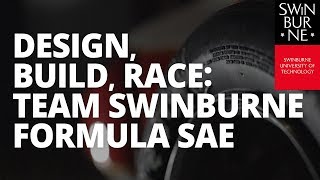 How to engineer yourself a spot on a racing team
How to engineer yourself a spot on a racing team
Team Swinburne Formula SAE is a squad of engineering, design and business students who act, work and think like a real racing team. That includes setting budgets and deadlines, getting involved with sponsors, and of course, creating and racing the fully-electric car itself.
Download a course guide

Thinking of studying with us? Whether you are a domestic or an international student, we have a wide range of courses to suit your needs. Simply complete the form to download your course guide.

Book a one-on-one

Not sure which course is right for you? No stress. Book a one-on-one appointment with a course adviser for help with your application or advice on your study options.

Course planner

Begin planning the units you will study in your course.

Work Integrated Learning

Swinburne guarantees real industry experience in all our bachelor degrees in the form of placements, internships or industry-linked projects.