Certificate IV in Allied Health Assistance (Physiotherapy, Occupational Therapy)
Want to help rehabilitate clients by working alongside physios and occupational therapists? The Certificate IV in Allied Health Assistance teaches you the core skills to work alongside and independently under the guidance of allied health professionals. Gain knowledge and practical skills enabling you to develop and manage therapeutic programs to deliver quality care in a hospital or community rehabilitation setting.
This is a nationally approved vocational course that is recognised throughout Australia.

Course currently in transition
The course code, title, units, and content may change. Further information will become available on our website, upon enrolment or during your studies.

Looking for your #1 VTAC preference?
Start with your guide on all things VTAC and get more for your ATAR.
Communicate effectively

Build therapeutic relationships

Deliver holistic care
Your career opportunities
Physiotherapist assistant

Allied health professional

Occupational therapy assistant
Wantirna VTAC code
3401011214
International student visa
International students in Australia who hold student visas are required to study full-time and on campus. Courses that are taught entirely online are only available to international students studying outside Australia or those in Australia who are not on a student visa. Online courses are not available to international students in Australia who hold a student visa.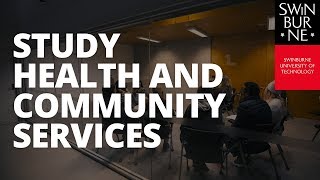 All In A Day's Study
VR, Mixed Reality and Simulated Scenarios
Ever imagined yourself holding up an augmented reality heart in class? Or using virtual reality to learn about the human skeleton? What about practising your skills on actors mimicking clients with mental health issues? It's all in a day's study when you choose a diploma or certificate in nursing, health or community services at Swinburne!
Please note that the duties of an Allied Health Assistant are quite physically demanding and should be considered and/or discussed before applying if there are any concerns.
Applicants require a minimum of completion of Year 12 or equivalent.
The following additional criteria for entry apply for this course:
All applicants must be a minimum of 18 years old at the commencement of the placement

A Police Check, with no disclosable offences, is to be obtained at least 10 weeks prior to clinical placement commencement. *If a candidate believes there would be a disclosable issue on their Police Check, a confidential conversation will be required prior to enrolment to determine suitability for work within the healthcare environment.
All students must hold a current Victorian Working with Children Check (Volunteer or Employee) for the duration of the program.
All applicants will need to demonstrate literacy and numeracy competencies
It is the student's responsibility to check the current COVID-19 mask mandate and whether it will affect their ability to undertake placement.
Immunisations are a requirement to work within health, and up-to-date evidence of immunisations are required to complete assessment requirements within the workplace. If you are not willing to provide up-to-date evidence, you will not be eligible to complete this program.
Immunisation requirements include the following:
Measles/Mumps/Rubella
Diphtheria/Tetanus/ Pertussis (Whooping Cough)
Tuberculosis
Varicella (Chickenpox)
Hepatitis B
Influenza
COVID-19

For more information about the minimum immunisation requirements please download the:
Additional immunisations may be required in response to any changes in Government policy or the specific requirements of the organisation you attend for your clinical placement. Further information will be provided at the commencement of the course.
Admission requirements
Meeting the minimum entry requirements for the course does not guarantee an offer of a place. See admission requirements for general information about the admission process.
English language requirements
Satisfactory completion of one of the following:
Need to undertake an English assessment for entry?
A prerequisite for many courses, the Pearson Test of English (PTE Academic) can now be done at our Hawthorn campus.
Credit is granted in recognition of previous study and allows students to gain advanced standing towards their course. Applicants are assessed on a case-by-case basis.
Recognition of prior learning
Recognition of Prior Learning (RPL) allows students to gain credit (advanced standing) towards their course in recognition of skills and knowledge gained through work experience, life experience and/or formal training. Applicants are assessed on a case-by-case basis.
Finding your fit
At Swinburne, we recognise that not one size fits all. If this course doesn't meet all your study criteria, check out these alternatives.
Certificate III in Health Services Assistance

Certificate III in Pathology Assistance

Certificate IV in Science
To be awarded this Qualification, students will complete 16 units (seven core and nine electives) and successfully complete a practical placement of 120 hours.
Please note: Whilst all attempts are made to make this three-week full-time placement available immediately at the end of the course work completion, you will be advised during the course what health provider and date has been allocated to you. While significant effort is made to match students geographically to placements, students do need to be prepared to travel to placements in the event that this is required.
Indicative nominal course hours: 1320
Units of study
Unit code
Core units

Communicate and work in health or community services




Core unit

CHCCOM005

Work with diverse people




Core unit

CHCDIV001

Manage legal and ethical compliance




Core unit

CHCLEG003

Recognise healthy body systems




Core unit

HLTAAP001

Confirm physical health status




Core unit

HLTAAP002

Follow safe work practices for direct client care




Core unit

HLTWHS002

Interpret and apply medical terminology appropriately




Core unit

BSBMED301

Elective units

Deliver and monitor a client-specific physiotherapy program




Elective unit

HLTAHA003

Support the delivery and monitoring of physiotherapy programs for mobility




Elective unit

HLTAHA005

Assist with the development and maintenance of client functional status




Elective unit

HLTAHA010

Support the fitting of assistive equipment




Elective unit

HLTAHA016

Assist with an allied health program




Elective unit

HLTAHA001

Assist in the rehabilitation of clients




Elective unit

HLTAHA009

Support group activities




Elective unit

CHCGRP001

Work with people with mental health issues




Elective unit

CHCMHS001

Provide First Aid




Elective unit

HLTAID011
2023 fees
Skills first government-subsidised place* ($AUD)
$4,730
Concession rate* ($AUD)
$946
Fees are estimates only
Fees published on this page are estimates only and are subject to change depending on individual circumstances at the time of enrolment. The above fees apply for units studied in 2023 only and may change for units studied in future years. There may be additional costs related to learning material and equipment.
Fees are estimates only
The indicative course fees shown apply to international students for the relevant year only. They are based on a standard study load per year. However, please note that fees are assessed according to a student's study load in each semester, and variation to study load will result in an adjustment to tuition fees. All fees are subject to annual review and may be adjusted.
Skills first government-subsidised place
To qualify for a government-subsidised place, you must meet various eligibility criteria. The course you've applied for must also be offering government-subsidised places. Swinburne will determine your eligibility by conducting a full assessment of your eligibility during the course application process.
Concessions rates for vocational students
If you're enrolling in a Certificate IV-level program or below, are eligible for a government-subsidised training place and hold a valid concession card, you may be eligible for a concession of 80 per cent off the published fee of your unit(s) tuition – which means you'll only be charged 20 per cent of the published fee.
Study this course for free in 2023

You could have your tuition fees covered in 2023 thanks to the Victorian Government's Free TAFE for Priority Courses initiative. 

Free TAFE for Priority Courses is available to any Australian citizen, permanent resident or New Zealand citizen.

There are other factors, too. The best way to find out if you're eligible is to apply!
Scholarship applications for 2023 are open. Scholarships at Swinburne are about providing opportunity, promoting equity and recognising excellence and achievement. We want you to reach your potential and achieve your life and career goals.
Our handy guide will assist you to gather documents for your application.
When you apply for a Swinburne course, we automatically consider you for an international scholarship of up to 30 per cent off your course fees – no separate application required! Just apply for your Swinburne course of choice and when we review your course application, we will also assess you for an international scholarship.
Most international students use an education agent to help them through the application process. Swinburne has agents all over the world that can help you with your application to study. Search for a Swinburne representative in your country. If your country is not listed, please contact us.
Ready to take on a new challenge and reach your academic goals? If you already know which course you want to study and understand the entry requirements, what are you waiting for? Apply online! Remember, you cannot apply direct if you have an active VTAC application.
International students currently studying Year 12 in Australia must apply through VTAC. VTAC is the central office that administers the application processes for places in tertiary courses, scholarships and the Special Entry Access Scheme at universities, TAFEs and independent tertiary colleges in Victoria.
VTAC is the central office that administers the application processes for places in tertiary courses, scholarships and the Special Entry Access Scheme at universities, TAFEs and independent tertiary colleges in Victoria.
Start dates
Location
Last date to apply
Start dates
February
Location
Wantirna
Last date to apply
24-January-2024
Start dates
29-January-2024
Start dates
Location
Start dates
February
Location
Wantirna
Start dates
29-January-2024
Upcoming events
Swinburne Innovation Challenge
29-November-2023