AGSE Postgraduate Degrees
Find your edge with the Australian Graduate School of Entrepreneurship (AGSE): flexible postgraduate degrees co-created with industry.
Our postgraduate degrees combine practical theory with experiential learning, merge traditional skills with innovative thinking, and take a design-led approach to solving business problems and challenges.
Professional Accounting

Future-focused postgraduate professional accounting courses from Swinburne. Accredited by CPA Australia and Chartered Accountants (CAANZ). Strong industry links.

Master of Business Administration

Swinburne's MBA is ideal for career progression if you don't have a business degree or lack experience. Its flexibility includes fast-track options if you do.

Master of Business Administration (Executive)

Co-created with industry. Swinburne's Executive MBA senior-level. Boost leadership, strategic, digital skills and career progression. Specialisations available.

Business Information Systems

Bridge gap between IT and business decision makers. Develop superior skills with Swinburne's postgraduate business information systems and business analysis course.

Entrepreneurship and Innovation

Postgraduate entrepreneurship and innovation courses co-created with Pitcher Partners. Strong industry links. Applied learning to develop your entrepreneurial mindset.

Finance

Boost your employability for financial analysis, management and investment roles with our industry-relevant, rigorous and topical postgraduate degree.

Financial Planning

FASEA-approved courses in financial planning. Practical postgraduate and bridging courses. Become a financial planner and turn clients' goals into reality.

Financial Technologies

Boost your career with an industry-led postgraduate course in Financial Technology - Fintech; co-created with Bendigo Bank, IBM and Tableau.

Human Resource Management

Postgraduate Human Resource Management - HR courses co-created with Siemens and Medicare. Prepare to build culture, manage teams and lead organisations through change.

Marketing

Our postgraduate marketing degree is co-created with industry. Build businesses by confidently combining traditional and digital data-led marketing strategy.

Project Management

Postgraduate project management courses with AIPM certification, real-world experience, innovation, tools and knowledge to manage diverse, complex projects.

Social Impact

Create and lead positive social change with a Swinburne postgraduate course in Social Impact - for professionals seeking deeper skills and a more meaningful future.

Supply Chain Innovation

Revolutionise supply chain management and logistics with the latest technology and thinking. Study a postgraduate Supply Chain Innovation course at Swinburne.
Postgraduate scholarships
Current members of CPA Australia or the Financial Planning Association of Australia (FPA) who are studying a postgraduate course in Financial Planning are eligible for a 15 per cent reduction in tuition fees.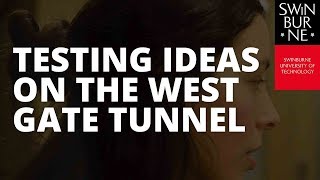 Testing ideas on the West Gate Tunnel
Master students offer solutions to real industry challenges
International master students, Pamela and Diana test their ideas with leading construction joint venture, CPB and John Holland.
Book a one-on-one appointment
Speak to one of our advisers by booking a one-on-one appointment.
Book now