Science in Australia Gender Equity at Swinburne
Currently, women comprise more than half of science PhD graduates and early career researchers in Australia, but only 17 per cent of senior academics in Australian universities and research institutes. As a leading Australian university, we seek to improve outcomes for women in STEMM, play a role in advancing gender equity and diversity, and implement meaningful actions to create long-lasting change.
We're proud to be an inaugural Athena SWAN Institutional Bronze Award recipient, and through the SAGE program, we have developed a four-year action plan to address gender inequity.

Swinburne also supports the Australian Academy of Science and the Australian Academy of Technology and Engineering as well as 'Women in STEM' Decadal Plan. The Decadal Plan identifies six opportunities (actions) to drive change over the next decade.
Our work closely aligns with the Decadal Plan, and we are actively creating an environment where girls and women can engage in STEM education and then use those skills to progress through their careers to senior level.
We support and have developed a broad range of outreach initiatives, both nationally and as part of Victoria's STEM Ecosystem, to increase the number of secondary school students participating in STEM.
Internally, we are working to establish STEMM workforce and study base that is fit for the future, globally recognised, powered by a diverse and gender-balanced pipeline, and supported by an inclusive and respectful workplace culture.
Take the Swinburne Panel Pledge.
Find out about our scholarships for women.
Join a student club or group that supports women in STEM.
Read more about the broad range of educational workshops, events and outreach programs Swinburne offers.

You will note use of the acronyms STEMM and STEM throughout these pages. This is deliberate, as the broader interpretation of STEMM (science, technology, engineering, mathematics and medicine) was applied to our SAGE submission and programs – while in other instances a program may only relate to STEM (science, technology, engineering and mathematics).
Science in Australia Gender Equity (SAGE) is a national program that promotes gender equity and diversity in STEMM.
The initiative was established to pilot the UK's Athena SWAN Charter in Australia and the accreditation framework in Australia. Launched in 2015, SAGE is a partnership between the Australian Academy of Science and the Australian Academy of Technology and Engineering.
Building on the success of the UK Athena Swan Charter, SAGE is adapted its accreditation framework for use in Australia in the STEMM higher education and research sector.
Athena SWAN is a mechanism for gender equity, providing a framework in which to plan and undertake concrete work to create structural and cultural change for gender equity. It addresses the cultures, systems and structural barriers, that hinder the participation and advancement of women and minority groups in organisations – making it an effective enabling mechanism for transformational change.
Swinburne is taking part in the pilot program of the successful UK Athena SWAN accreditation program. There are 10 principles of the Athena SWAN charter which Swinburne has committed to adopting within its own policies, practices, action plans and culture.
Through our involvement in the SAGE program, Swinburne has adopted the ten principles of the Athena SWAN Charter:
We acknowledge that academia cannot reach its full potential unless it can benefit from the talents of all.
We commit to advancing gender equality in academia, in particular addressing the loss of women across the career pipeline and the absence of women from senior academic, professional and support roles.
We commit to addressing unequal gender representation across academic disciplines and professional and support functions. In this we recognise disciplinary differences including the particularly high loss rate of women in science, technology, engineering, mathematics and medicine (STEMM).
We commit to tackling the gender pay gap.
We commit to removing the obstacles faced by women, in particular, at major points of career development and progression including the transition from PhD into a sustainable academic career.
We commit to addressing the negative consequences of using short-term contracts for the retention and progression of staff in academia, particularly women.
We commit to tackling the discriminatory treatment often experienced by transgender people.
We acknowledge that advancing gender equality demands commitment and action from all levels of the organisation and in particular active leadership from those in senior roles.
We commit to making and mainstreaming sustainable structural and cultural changes to advance gender equality, recognising that initiatives and actions that support individuals alone will not sufficiently advance equality.
All individuals have identities shaped by several different factors. We commit to considering the intersection of gender and other factors wherever possible.

You can also support the Athena SWAN Charter
You can become an Athena SWAN Charter advocate at any time.
Download the Athena SWAN Charter to display in your work or study area.
Apply the ten principles in your every day and your planning. Nominate women for awards, speaking engagements or positions of leadership. Celebrate women's achievements. Challenge stereotypes and bias. Encourage others to do the same.
Share your commitment on social media. Download a commitment poster and tag #AthenaSWAN #WomenInSTEMM #GenderEquity @Swinburne
Contact us to find out more and get involved.
Diversity enhances innovation by offering different perspectives, which leads to more innovative solutions, helping us push the frontiers of discovery.
By addressing workplace barriers to advancing gender equity, both men and women across all disciplines benefit. This will help us retain our best scientists and innovators and ensure Australia's research and development excellence is maintained.
Organisations using the Athena SWAN framework in the UK have improved gender diversity and bolstered representation of women in leadership in STEMM.
Scientists in these organisations have experienced greater career satisfaction and fairness in workload allocation, and increased opportunities for training and development. This has led to transformations in workplace culture.

Swinburne women in STEMM (from 2018 submission):
38% of our academic staff here at Swinburne are women
42% of the professors and associate professors within our non-STEMM fields are women
31% of our STEMM academics here at Swinburne are women
Only 20% of our STEMM professors and associate professors are women.
Our proud commitment to gender equity in the workplace was recognised with an Athena SWAN International Bronze Award – the highest recognition currently available in Australia – from SAGE.
As part of our award we developed the SAGE Action Plan 2019-2022'. This plan includes initiatives that are already underway at Swinburne, and outlines new actions we can undertake to improve the attraction, promotion and retention of women and gender minorities in STEMM.
As a SAGE member, we are working to reduce gender bias to create a more inclusive culture that values all staff.
So far, throughout the self-reflective program process we have:
collected and analysed staff and student data, and reflected on our current policies and practices
engaged with staff and students to identify gaps and opportunities to improve gender equity in STEMM
developed and started implementing an action plan to improve our practices, and promote, develop and retain women in STEMM disciplines.
We have now moved into the action implementation phase of the project. Students or staff wanting to get involved in the project can contact us here to find out more!
Become a change agent to help us implement the SAGE action plan. The Swinburne forum on the SAGE project findings, actions and next steps attracted a wide range of volunteers but we need more. We invite all members of the Swinburne community to get involved and help us create a gender-equitable, diverse and inclusive organisation.
Please come along to future events and actively support equity at Swinburne in all the ways outlined in our SAGE action plan.
Contact us to find out how you can get involved in SAGE at Swinburne.
Gender equity in action
Swinburne has taken a number of practical actions to support gender equity in science. We are proud to be an inaugural Athena SWAN Bronze Award recipient and to implement a four-year action plan to drive the advancement of women and diversity in science, technology, engineering, maths and medicine (STEMM).
We are an equal opportunity employer and have been recognised by the Workplace Gender Equality Agency (WGEA) as an Employer of Choice for Gender Equality many times.
Swinburne is working to develop cohesive gender equity strategies, from our outreach programs to the provision of employee resources and support, including encouraging fathers to consider taking parental and carers leave, and setting targets around our gender pay gap and increasing the number of women in STEMM.
View our SAGE Action Plan (2019–2022) and original full submission:

School holiday program
Note: This program is paused due to coronavirus restrictions.
Swinburne offers a suite of successful school holiday programs for primary school-aged children at the Hawthorn campus. These programs initiated through our SAGE action plan, have run in most school holiday periods since July 2017.
The program is available for the dependants of Swinburne employees, contractors, students and their friends. These programs are offered during all Victorian public school holiday periods, except in December.
Bookings can be made online here.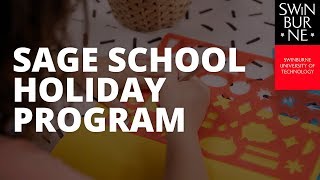 SAGE School Holiday Program
Swinburne is always seeking ways to improve services and facilities for students and staff who need to bring their children on campus. 
As part of the SAGE action plan, we endeavour to remove any barriers that may prevent women in particular from being present at Swinburne. For example, we have parents' rooms available at our Hawthorn campus in the Engineering building (EN611e), in SPW, and in Luton Lane (2L006c), as well as at our Wantirna campus (WG109). Work is underway to refurbish our Croydon parent's feeding room.
Swinburne consistently complies with WGEA reporting requirements. We have been recognised as an Employer of Choice for Gender Equality many times, and continue to strengthen gender equity initiatives through our award-winning SAGE Action Plan (2019-2022).
In October 2016, Swinburne offered a suite of five ongoing prestigious Vice Chancellor's Research Fellowships for women applicants in STEM. Four women were appointed in July 2017, and a fifth in October 2019. The Fellowships provide women with the opportunity to fully focus on research early in their careers. Having the security of ongoing research and a teaching position is crucial in ensuring we retain our excellent women in STEM.
In October 2016, we extended current parental leave entitlements (staff login) to primary carers (of all gender identities). In particular, we encourage fathers to take parental leave and support a variety of flexible work options.
We've established diversity targets for different areas of the university and we've also recruited for women-only senior leadership and academic roles.
Looking for scholarships for women?
We offer a number of scholarships for female students to study at Swinburne. Learn more about our scholarships for women.
Latest news
Swinburne researcher honoured for services to multicultural communities

Criminology expert, Dr Stephane Shepherd, has been awarded the 2020 Victorian Multicultural Award for Excellence in Justice

Wednesday 23 December 2020

Swinburne reflects on a year of reconciliation

With the leadership of the Moondani Toombadool Centre, Swinburne continues to progress reconciliation through engagement, leadership and innovation

Thursday 17 December 2020

Swinburne partners with Avanade Australia to help close gender gap in STEM

Avanade's Women in STEM scholarships at Swinburne aim to inspire women and equip them with the skills needed for the future of work.

Tuesday 15 December 2020

Increasing the pool of women in professional and academic areas in the tertiary sector

The inaugural WATTLE (Women ATTaining LEadership) Alumnae Symposium was held online showcasing two topical themes: Leading in a Changing Landscape and Compassionate Leadership.

Monday 14 December 2020

Swinburne's Professor Bronwyn Fox awarded prestigious science medal

Professor Bronwyn Fox has been awarded the 2020 Medal for Excellence in Scientific Research from the Royal Society of Victoria

Wednesday 11 November 2020

Student News
Social Affairs

Celebrating Swinburne World Kitchen 2020

Swinburne World Kitchen was held virtually for the first time to celebrate connectedness, culture and deliciously diverse food from all over the world.

Friday 16 October 2020