Business | Richmond Football Club
I completed my professional internship with the Richmond Football Club in my final year and final semester of my degree and I am now employed by the Club part-time.
My final semester was a stressful time, however, with the constant support from Kat my supervisor and Julia my academic supervisor, they made my experience more enjoyable. They understood my situation and always worked around my schedule when needed. I'm extremely glad I undertook this internship while studying as it taught me the importance of time management.
©
Grace completed an internship at Richmond Football Club.
The internship opportunity at Richmond caught my attention as I am supporter of the club. After reading about the project scope I decided to apply. Also, it was something different as I never thought of working in HR for a sports organisation.
I was very nervous during my first day at Richmond. Everyone was very welcoming and friendly, which made me feel more excited. I was introduced to each department and learned about the amount of work that goes into running a football club. It made me feel like an actual staff member and really settled my nerves.
During my internship, I assisted the team with the L&D system transition. This involved updating Richmond Football Club's current compliance systems and transitioning the staff to use the new system.
Undertaking an internship expanded my interest for working in HR and also defined the areas of HR that I found enjoyable. My experience sparked an interest towards recruitment and on-boarding processes for HR. Richmond provided opportunities to collaborate with different areas of the club and this developed my communication skills and understanding on how departments interact with each other in the workplace.
"It is really important to have real-life experience in industry because you learn so much about yourself and how to apply the theory learned at university to practice. Also, it helps develop skills, such as how to communicate in an office setting and how to set high priority and low priority tasks."

Grace , Bachelor of Business
I am now employed at Richmond working as the People & Culture Administration Officer. I currently work 3 days a week at the club. This internship was the gateway to my first job after finishing my university studies. My supervisor was able to see my skills, my work ethic and my personal growth during my internship.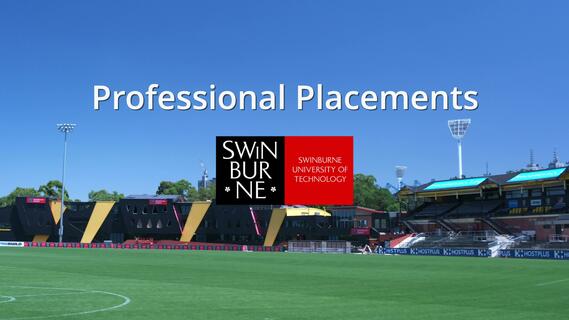 Professional internship at Richmond Football Club
View video transcript [PDF 161KB]
Want to learn about our Richmond Football Club partnership?
Swinburne and the Richmond Football Club are committed to working together on projects that have social and economic impact. Find out more about what the partnership involves, what has been achieved so far, and what lies ahead.
Learn more
Create your own story
A placement is your chance to fully immerse yourself in an organisation and gain valuable industry experience that will generate real outcomes for your future. Find out how you can secure a placement.
Learn more