Civil Engineering | Metro Trains
My role was as an Undergraduate Engineer with Metro Trains on a 12-month placement. I performed tasks relating to fault identification, risk mitigation and project planning for asset renewals.

©
Fergus completed his 12 month placement at Metro Trains. 
I'm very grateful to have worked with such a friendly team, and I also found rail engineering to be extremely interesting. Walking through the Melbourne underground rail loop was very cool and also taking a ride in a tamping machine (used to tamp railway tracks) was an interesting experience. Rail engineering involves many facets of engineering and provides plenty of topics to discuss and learn. It is great for people who enjoy learning new things continuously.

I have been lucky enough to work on multiple jobs independently, and in teams, that have resulted in outcomes which I felt proud to accomplish. I also expanded my computing knowledge while automating a data reclassification job that once took a team of three people a couple of days to complete. I was able to complete the job by myself in approximately half a working day with a reduced chance of human error.
"Placements are great for networking and will most definitely lead to me becoming more employable."

Fergus , Bachelor of Engineering (Honours)/Bachelor of Business
As part of my training, I completed a time management course and it has dramatically changed the way I manage tasks and my life in general.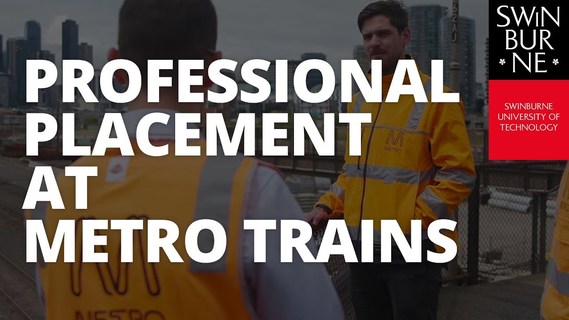 Professional Placement at Metro Trains
View video transcript
Create your own story
A placement is your chance to fully immerse yourself in an organisation and gain valuable industry experience that will generate real outcomes for your future. Find out how you can secure a placement.
Learn more