At Swinburne, we offer students the unique opportunity to enrol in a degree that incorporates a paid, full-time, 12-month work placement. You'll gain invaluable workplace experience, get a taste of your chosen profession and earn money while you finish your studies.
Your tech-rich future starts now
Whether you're artsy or sciency, tech is embedded in every course at Swinburne. Embracing it today will empower you to work with it tomorrow. Get all the advice on our courses and how to apply for them.
Benefits of doing a Professional Degree at Swinburne
A Professional Degree will set you apart from other graduates by allowing you to gain the experience that future employers are looking for — all while getting paid. A Professional Degree will also allow you to:

put your knowledge into practice in a real work situation
explore the avenues that your career could take
build your professional network
test your work capabilities
receive valuable mentoring and unique industry insights before you graduate
maintain your student benefits
add substantial, course-specific experience to your CV.
Our Professional Degrees feature a mandatory 12-month work placement which is normally undertaken during your third year of study. You will be paid for the placement (at award rates), receive academic credit, and gain invaluable skills that will help you to be job-ready upon graduation.
You can complete the Professional Degree, including the 12-month placement, in between four to five years. On completion, you will graduate with a bachelor's degree.
Are you an international student?
International students who successfully gain a placement will need to transfer to a corresponding Professional Degree. Upon transferring to this degree, you must complete a 12-month placement and pay an extra one year's tuition fee on top of your standard course fees.
It's important to seek reputable advice regarding the visa extensions. Contact us for more information.
Contact us
How long will the degree take?
A Professional Degree will normally take four years to complete, including the 12-month work placement. The Bachelor of Engineering (Honours) (Professional) will take five years to complete, including the 12-month work placement.
Your course duration may be longer, depending on your chosen major area of study and other study options. For more information, call the placements team on 1300 794 628 or access our FAQs.
Access FAQs
Student stories
Isaac's placement story

Michelle's placement story

Thishara's placement story

Murphy's placement story
Placement information 
You will have to successfully complete a minimum of 150 credit points to become eligible to apply for a work placement. 
The Professional Placements team will contact you and provide access to Career Start, the compulsory Canvas module that assists with CV and cover letter writing as well as interview skills. After completion of Career Start, you will be given access to placement roles relevant to your course of study. 
Securing a placement is a competitive process and will rely on the quality of your CV, cover letter, academic record, interview and portfolio (where applicable). In addition, each industry will have a slightly different interview and screening process that may involve job interviews, group assessments and other tasks.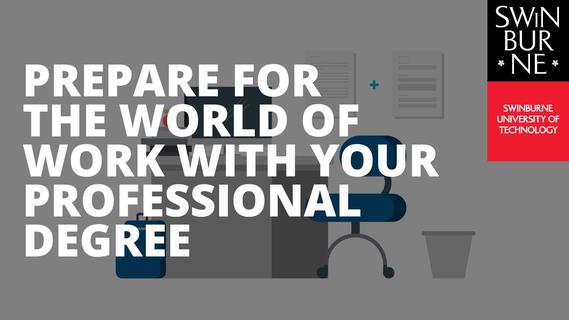 Prepare for the world of work with your Professional Degree
View video transcript [PDF 136KB]
Professional Degree entry requirements
Our Professional Degree courses are open to local and international students who have completed the VCE or equivalent Australian Year 12 program and have the relevant ATAR entry score. Check the individual entry requirements for your preferred course.
Get the advantage
Gain the advantage over other graduates by studying a Professional Degree at Swinburne. Graduate with the skills and industry experience that employers are looking for and put yourself on the path to a successful career.
Search Professional Degrees