We know that making the decision to move across the world to study in a new country is not easy, but there are many benefits to studying in Australia.
So what is it about Australia that attracts one of the highest numbers of international students in the world?
Australia offers a relaxed lifestyle, welcoming people, leading global education, world-class facilities, multiculturalism, diverse study options and incredible landscapes.
©
International students at a Richmond vs St Kilda AFL game.
Lifestyle
Study abroad and exchange students will be based at our main campus in Hawthorn. Just ten minutes on the train from Melbourne's city centre, Hawthorn is blessed with boutique shops, parks, restaurants, public transport, a cinema, gym and public swimming pool.
Beyond Hawthorn, Melbourne was voted 'world's most liveable city' for seven years in a row, and offers a fantastic blend of culture, sport (lots of sport), art, shopping and dining.
There are many other reasons to study in Australia. If you explore our beautiful country during your time here, you'll experience some of the world's most stunning beaches, rainforests, deserts and cities. The hardest part? Deciding where to go first.

Welcoming and supportive
Australia celebrates people from a vast array of cultures, ethnicities and religions. You can feel confident in knowing you'll be welcomed and make plenty of new friends.
We care about your wellbeing too. We have dedicated International Student Advisers who can provide advice on academic and personal needs. They can help you access study support, health services and counselling.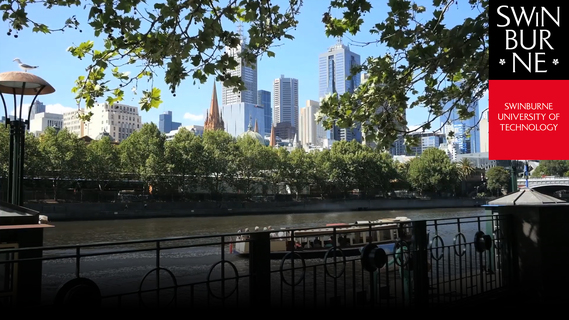 Living and studying in Melbourne
Globally recognised benefits of studying in Australia
Australia's education system is highly regarded across the globe and our degrees are trusted and internationally recognised.
Swinburne is a leader in Australian universities, we pride ourselves on industry partnerships and world-class research ensuring a focus on graduates that are ready to step into the workforce.
Our courses are created with input from industry, taught by industry-engaged academics and involve project work with some of the biggest global brand-name companies.
We are recognised for producing graduates who are ready for employment, and we offer a range of programs that extend your learning beyond the classroom.
Learn more about work integrated learning
Work while you study

Working while you are here is highly encouraged. Not only will it provide you with work experience and money, but it will also help you make new friends.
International students on student visas are allowed to work up to 20 hours per week. But make sure you leave yourself enough time for classes and homework. Remember many visas have attendance requirements you need to meet.
Student satisfaction

When you combine all of the reasons above, it's easy to see why you should choose Australia for study, and why our students are very satisfied.
At Swinburne, students are at the heart of everything we do. In recognition of this focus, we have received a Five-Star Overall Experience Rating and further recognition in the 2019 Good Universities Guide.
The five-star rating is based on student satisfaction, with 82 per cent of those surveyed rating their experience at Swinburne positively — above the national average of 79 per cent.

We have also been recognised as having a five-star rating for staff to student ratio. Staff to student ratio is the number of students per teaching staff member. With a ratio of 20 to 1, we have the highest rating for a Victorian university. Our five-star rating means you're more likely to experience smaller class sizes and one-on-one interaction with your teachers.
Why choose Swinburne?

Our commitment to high-quality teaching over our 110-year history is what makes us educational leaders in science, technology, innovation, business and design. At Swinburne, we help you reach your academic goals in a fun, vibrant and accepting environment.

Living in Melbourne, Australia

When you arrive, you'll quickly discover why we have such a great reputation for sport, art, culture, shopping (and the best coffee on the planet!). Here are some of the things you can look forward to in our beautiful city. 
Ready to start an exciting new adventure?
Learn about applying for a student visa (including the conditions and requirements you will need to meet) to study at Swinburne and begin your exciting new adventure in Australia.
Learn more