Learning and Academic Skills
Get help with your assignments and build your study skills with Learning and Academic Skills (LAS).
No matter what level or course you are enrolled in, our team of Learning and Academic Skills (LAS) advisors can help you tackle your assessments and develop your study skills, including with:

advice on individual and group assignments, essays, reports and academic writing
presentation and online learning skills
preparation for tests, quizzes and exams
digital literacy and computer skills, such as Word, Excel and PowerPoint
problems in maths, as well as basic stats, physics and chemistry.
Speak to a LAS advisor
For help with your assignments, please book an appointment on campus or online. You can also bring along your questions to our Drop In Advice Sessions at the Croydon, Hawthorn or Wantirna library. LAS Drop In Advice will run online when necessary to fit in with COVID-19 restrictions.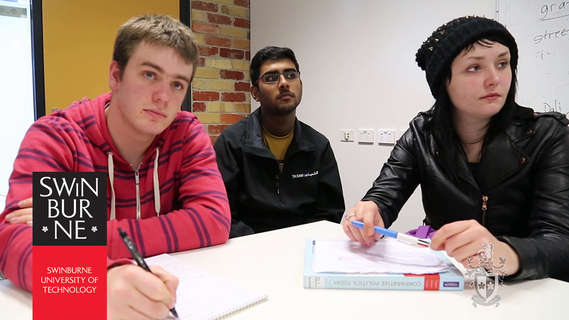 A student perspective (LAS)
View video transcript [PDF 154KB]
Learning and Academic Skills
Build your skills for study and assessment through Learning and Academic Skills activities, including:
LAS Workshops 2022
This workshop program improves your learning and academic skills throughout the semester. Take a look at our topics and come along. No registration needed.
Enrol now

Study Smarter Online Learning Modules
The modules are designed to develop and improve your skills at a time and pace that best suits you.
Each module takes approximately one hour. Complete the quiz and write a short reflection to receive personalised individual feedback and a participation certificate.
Enrol now

Online Grammar Program
This program is designed to provide you with an opportunity to improve your grammar and enhance your general and academic English.
Enrol now

English Conversation Sessions
These sessions are designed to provide you with an opportunity to practise your spoken English language skills and make new friends along the way.
Enrol now

Get maths, stats, physics and chemistry help

You can book an appointment with a LAS advisor to help improve your understanding of maths, as well as basic stats, physics and chemistry.
Students studying science, engineering and technology can access maths, stats and physics help via the Mathematics and Statistics Help (MASH) Centre.

Self-assess your academic skills

The Swinburne Academic Literacy Needs Assessment (SALNA) is an online quiz for undergraduate and UniLink students at Swinburne. It helps you identify where your strengths are and suggests areas you could improve on.
Are you preparing for exams?
Read our handy tips to prepare you for future exams, including how to address short answer exams, case studies and scenario questions.
Download now [PDF 220KB]
Need help with assignment writing?
If you're looking for useful guides in assignment writing and language skills, check out our study skills resources.
Find out more
Get just-in-time assignment support around the clock
Your hours might be all over the place, but our academic support services can work with that.
Swinburne is partnering with Studiosity to give you real-time, one-on-one virtual support with a degree-qualified study coach via a live chat. You can also get assignment feedback (on spelling, grammar, structure and more) delivered to your inbox within 24 hours.
Simply log in to any of your Canvas units and look for Studiosity on the navigation menu.
Looking for extra study support?
We have Academic Development Advisers that can assist with any issues you may face during your studies and help you make the most of your university experience.
Contact us