Master students offer solutions to real industry challenges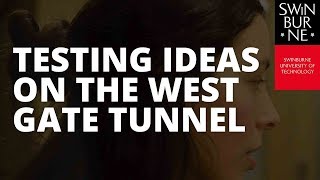 Testing ideas on the West Gate Tunnel
You might think students don't get to test their ideas against real industry standards at uni. Well, we can tell you that's not the case at Swinburne.
As part of their master degrees, international students Pamela Wolf Casallo and Diana Romero were tasked with offering innovative solutions to real challenges being faced by the massive West Gate Tunnel Project.
The pair and their classmates studying Delivering Innovation and Other High Risk Strategies were briefed by CPB Contractors and John Holland, who were jointly awarded the design and construction contract for the project.  
Program manager and lecturer, Dr Jason Thomas said: "It made sense to reach out to an organisation playing a major part in the Australian economy. An organisation who had a real life challenge we could connect to the theoretical concepts being taught in the program."
"And, of course the students really loved it because they weren't working on a theoretical problem, this was a real problem and they had the opportunity to present a solution back to the company."
"I think this is one of the leading reasons why Swinburne is an attractive place to come and study because it connects theory with implementation."
Course Info

Innovation
Technology
Engagement
Swinburne Advantage

Swinburne 2022 Change of Preference Expo

Join us at Swinburne's Hawthorn campus to take a tour, get advice personalised to you and your study goals, and update your VTAC preferences on the day (and with confidence).

Register now

(Swinburne 2022 Change of Preference Expo)

Course Info

Engineering
Science
Information Technology

A Day in the Life of a Swinburne STEM Student

Go on a journey through the world of science, engineering and technology at Swinburne as you walk a day in a STEM student's shoes.

Register now

(A Day in the Life of a Swinburne STEM Student)

Course Info

A Day in the Life of a Swinburne Health Student

Experience what a day of uni looks like for a Swinburne health student as you learn about the different career paths in fields like healthcare and psychology.

Register now

(A Day in the Life of a Swinburne Health Student)
Keep on exploring
Find a course

Living in Melbourne, Australia

Master degrees