Living in Melbourne, Australia
Curious to know what it's like living in Melbourne? The city has built a reputation for multiculturalism, world-class dining experiences, a thriving arts scene, shopping, delicious coffee and sport. Lots of sport!
Once you begin to explore Melbourne's iconic laneways, galleries, museums, inner-city parks and reserves and weave yourself into the tapestry of this amazing city, you'll begin to understand why Melbourne was 'The World's Most Liveable City' for seven consecutive years.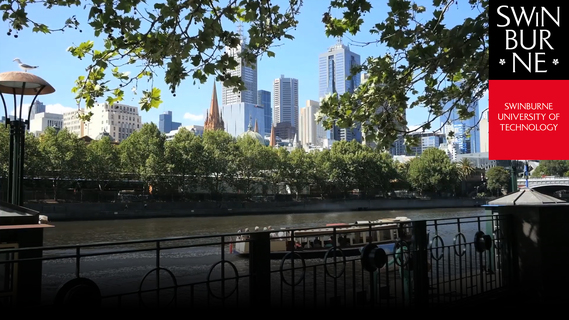 Living and Studying in Melbourne
Start exploring
When you're living in Melbourne, there is never a shortage of things to do — and many of the options won't cost you a cent. 
Spend your days exploring the city's famous laneways, museums, parks and sporting events. Once your feet get sore, hop on the free City Circle tram and jump off at some of the city's major attractions including Federation Square, Princess Theatre, Melbourne Aquarium, shops and cafes. 
Once the sun sinks beneath the horizon, the city takes on another life. Live music and theatre, entertaining buskers, a buzzing bar scene and some of Australia's best restaurants all come to life. 
When you're living in Melbourne, you have a wonderful base for day trips and extended holidays to the Great Ocean Road, Yarra Valley, Mornington Peninsula, Phillip Island, Mount Dandenong, Macedon Ranges and more. With bus, rail and plane connections close by, exploring the rest of Australia is easy to do.
©
Melbourne is full of laneways to explore.
Weather
There's a good chance you've heard the phrase, 'four seasons in one day', and it describes Melbourne's weather perfectly. Expect warm and cool, rainy and dry, windy and calm, all in one day.
Summer can see temperatures soar up to the high 30s (degrees Celsius), while the winters can get cold enough to ensure jackets and scarves are regular fashion accessories.
©
Holi Festival celebrations at Swinburne.
Art, theatre and culture
Melbourne is blessed with a thriving arts and culture scene. The historic East End Theatre District plays host to world-class stage and musical productions all year round.
The Southbank precinct houses The Arts Centre, Melbourne Theatre Company, Malthouse, Recital Centre and the National Gallery of Victoria. Federation Square boasts ACMI, the Ian Potter Centre NGV and The Deakin Edge theatre.
If outdoor galleries are more your flavour, be sure to wander the many street art-lined laneways — see if you can spot works left by legendary street artist Banksy. Hosier Lane, Centre Place, AC/DC Lane and Croft Alley are all great places to ignite your visual senses when you're living in Melbourne.
©
Federation Square in Melbourne's city centre.
Food, glorious food
Melburnians love their food and, thanks to the multiculturalism of the city's inhabitants, cuisines from all over the globe are showcased. The city has a proud reputation for its world-class restaurants. From Indian to Vietnamese, Greek to Chinese, the city's eateries serve up tasty treats to suit all budgets.
A particularly important part of the CBD's famous restaurant precinct is Chinatown. The oldest Chinatown in Australia, Melbourne's Little Bourke Street and neighbouring lanes have been serving delicious dishes to diners for more than 150 years.
Other popular dining precincts include Degraves Street, Hardware Lane, Southbank, Docklands and Flinders Lane. With so many areas to explore when you're living in Melbourne, you'll be spoilt for choice when it comes to settling on a dining destination in the CBD. 
If you're cooking at home, head to Queen Victoria Market. It's the largest open-air market in the southern hemisphere and a great place for fresh produce.
When you're talking about Melbourne, you can't not mention its coffee culture.
A thriving cafe scene combined with award-winning roasters and baristas makes finding a good cup of coffee a relatively easy affair.
If you're not sure where to go, just look for the lines of locals queuing up at one of the many busy cafes around town.
Many of Australia's most significant sporting events are held in Melbourne. There's test cricket, Australian Open tennis and Grand Prix motor racing.
The Rip Curl Pro Surf Classic at Bells Beach and the Spring Racing Carnival also help create a lively sporting atmosphere.
You'll get used to Melbourne's obsession with Aussie rules footy (AFL) – a sport you'll learn to love. Your first decision? Which team to support. Footy is just the start.
Melbourne United take the court in the National Basketball League (NBL) and the Dandenong Rangers and Melbourne Boomers show us how it's done in the Women's National Basketball League (WNBL), while Melbourne Storm and Melbourne Rebels represent the state in rugby league and union (respectively).
There's also the A-League, Australia's football (soccer)league. Local teams Melbourne Victory and Melbourne City vie for glory against eight other teams across the nation.
The city centre's cool laneways and tree-lined streets are filled with interesting, small boutiques. Bourke Street Mall is fashion central, and for a range of designers under one roof head to, Melbourne Central, QV and Emporium Melbourne.
Outside the city centre, Chapel Street in South Yarra, Acland Street in St Kilda and Brunswick Street in Fitzroy are popular shopping areas.
Moving to a new city can be daunting, especially where finances are concerned. To help ease the burden of trying to determine how much to budget for on a weekly basis, check out our student budget example.
Getting around Melbourne
Melbourne has many accessible public transport options and bike paths making it easy to go exploring after class.
Find out how
Why study in Australia?

If travel restrictions mean you can't be here right now, it's still fun to dream about your ultimate study destination! World-class education, breathtaking landscapes, vibrant cities and friendly locals (even kangaroos and koalas) — it's no wonder our international students love Australia! 


Things to do in Melbourne

Melbourne is proudly multicultural and no matter where you're from, you can feel safe and welcome here. There are fun things to do in Melbourne every day, with free events all the time.

Arriving in Melbourne

Explore the options to get to your accommodation in Melbourne from the airport, including our airport transfer service.

Plan your arrival in Melbourne

Received your Confirmation of Enrolment from Swinburne and organised your student visa? You can start to prepare for travel to Melbourne.

Why choose Swinburne?

Our commitment to high-quality teaching over our 110-year history is what makes us educational leaders in science, technology, innovation, business and design. At Swinburne, we help you reach your academic goals in a fun, vibrant and accepting environment.