Direct entry into university
Want to study at a globally recognised university that emphasises real-world experience? Whether you want to study VE, undergraduate or postgraduate programs at Swinburne, we offer a variety of courses and pathways that are designed with your future in mind.
Combined with our focus on high-quality teaching methods, our state-of-the-art facilities and equipment, flexible study options and our emphasis on engaging with industry — Swinburne University of Technology is a place where you can achieve your academic goals.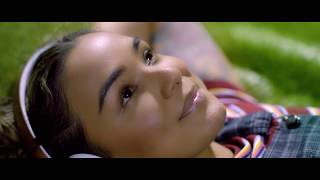 Regret Nothing
We understand that everyone's pathway to studying at university is unique. It might be impractical for you to study full time. You may have to juggle various commitments and responsibilities – but this shouldn't stop you from studying.
That's why we offer flexible study options across our programs, and even offer the opportunity to study online through our breakthrough technologies.
Vocational Education (VE) direct entry
At Swinburne, we proudly offer quality vocational education courses and programs that are designed to teach you the skills needed you need to enter the workplace in your chosen field in industries such as building and construction, electronics, plumbing, nursing and more.
Why choose us

From pre-apprenticeship courses that will equip you with crucial foundational skills and knowledge to apprenticeships that allow you to earn while you learn your way to a nationally recognised qualification, as well as traineeships and trades short courses for those looking to upskill — we've been offering TAFE qualifications for over 100 years, so it's safe to say we know we really know our stuff!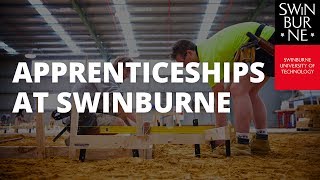 Apprenticeships at Swinburne
Take a tour of the specialist trades facilities at our Croydon campus, including carpentry, bricklaying, plumbing and electrotechnology training spaces.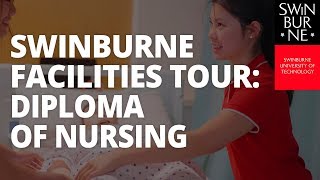 Our nursing facilities
The Diploma of Nursing is a nationally accredited course that teaches essential skills required to work under supervision with a registered nurse. Explore our state-of-the-art facilities at our Wantirna Campus.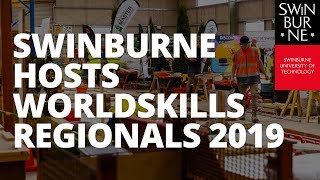 Hosts of the WorldSkills Australia Regionals 2019
Held at Swinburne's Croydon campus on 28 August, the WorldSkills Melbourne East Regionals featured five competing teams showcasing their skills across five trades.
Are you studying as a mature age student?
Whether you're upskilling for a promotion or retraining for a new career — returning to study and balancing your other commitments might be easier than you think. At Swinburne, we run a number of classes and workshops to help you transition back into studying and even gain recognition for skills you already have.
We also offer a range of courses to help you develop your English language skills (including written and spoken English) to ensure you make the most of your studies.
Undergraduate study direct entry
The beauty of choosing a university like Swinburne is that you get plenty of options. You can jump into a standard three-year degree or you can dip your toe in the water with a certificate or diploma then progress to higher education or go straight into work. You can even start your academic journey now and go on to postgraduate study (like a master or PhD) down the track.

There are many options, it's just about choosing the right one for you!
Ready to dive into the courses we offer here at Swinburne? Search our courses and find the program you want to study.

©
Three students walking through Swinburne on Wakefield St, Hawthorn campus.
Looking for a pathway from a diploma to a degree?
Want to move up in the world? You may be eligible to transfer from a diploma to a degree at Swinburne, even if you've been studying at another institution.
Learn more
Maths Link
Don't meet the maths prerequisite for your chosen course? Our Maths Link program is designed to help you meet the prerequisites to study Aviation, Science, Education or Engineering courses here at Swinburne.
If you don't have the required VCE Units 3 and 4 maths subjects, our VCE Maths Link Methods or VCE Maths Link Further may be able to help.
Special Tertiary Admissions Test (STAT)
STAT is a test that enables you to fast-track your progress and commence a university course in less time than taking a pre-tertiary bridging course.
The Special Tertiary Admissions Test can cover areas such as written English, numeracy and your ability to interpret data and information.
Postgraduate direct entry
At Swinburne, we provide practical, theoretical and conceptual skills to prepare you for success. Whether you're just starting out or moving into a leadership role, by the time you graduate you'll have the knowledge and skills you need to succeed — it's just a matter of choosing the qualification that suits the future you can picture.
Postgraduate study can help you stand out in a competitive job market, gain specialised skills and achieve your career goals sooner. It can also provide the opportunity to deeply explore an area of study or research in which you can really make your mark.

Search our postgraduate courses and help to shape the world.

Why choose Swinburne?
Our flexible study options

We offer a range of options that let you fit your postgraduate study into your life. Lectures and tutorials can be held in the evenings and online for those that work full-time. Options are also available for distance learning, online, part-time study and studying in intensive mode — a great way to get your qualification sooner!

Our state-of-the-art campus and facilities

Our facilities support our ethos of entrepreneurship and innovation, and rigorous research — with purpose-built labs, classrooms and shared workspaces. Our Innovation Precinct enables interdisciplinary and industry collaboration, and our Advanced Manufacturing and Design Centre is renowned as a hub for world-leading research, education and training.

Our industry connections

Our strong links with business and industry mean you'll graduate with the skills that employers are seeking. We partner with leading Australian and global organisations to offer students authentic workplace experiences and many of our programs are professionally accredited by industry bodies.

Our focus on research

Swinburne is an internationally renowned research-intensive university. We have five key research institutes across data science, health innovation, smart cities, social innovation and manufacturing futures, and we are recognised globally as leaders in science, technology, innovation, business and design.

Our educational leaders

Our reputation for superior education and research means we attract highly qualified academics and educational leaders. You'll learn from those who're at the top of their fields with extensive experience in industry and in the classroom.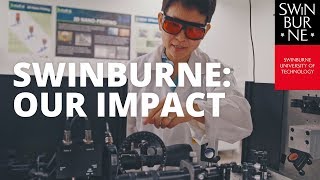 Swinburne: Our Impact
Discover how we're leading the way, bringing about social and economic influence through science, technology and innovation, and challenging old ways of thinking to create new ways of learning.
Interested in our courses?
Ready for the next step in your academic journey? No matter what your pathway to study is, at Swinburne we provide a variety of flexible study options to suit your lifestyle. Search our degrees, diplomas and postgraduate courses.
Search courses