Building and Construction
As populations increase, more residential, industrial and commercial buildings are required to keep up with demand. Learn the skills needed to lay the foundations to a successful career in building and construction.

Whether you're looking to upskill in the building and construction industry, or wanting to move into this field as an apprentice, we offer a variety of courses that will help you pursue a successful and rewarding career.
Through our Certificate II Pre-Apprenticeship courses you will learn how to safely use a variety of hand and power tools and gain the practical skills employers are looking for.
Build upon your foundational knowledge of the construction industry by enrolling in our Certificate III in Carpentry and Certificate IV in Building programs and gain the specialist skills needed to get your builders licence and become registered with the Victorian Building Authority through our building and construction courses.
Looking for your #1 VTAC preference?
Start with your guide on all things VTAC and get more for your ATAR.
© elcasanelles
Study for low-fee or free in 2023!
You could have some or all your tuition fees covered in 2023 thanks to government initiative Free TAFE for Priority Courses.
Free TAFE for Priority Courses is available if you are under 20 years old, or enrolling in a course at a higher level than you have completed before.
If you don't tick either of these boxes, you could still have a chance! There are other factors, too. The best way to find out if you're eligible is to apply.

"I chose to study at Swinburne because it's got a good reputation as an education provider. I really like the instructors at Swinburne as they're professional carpenters and they've got years of experience in building and construction. They teach with a hands-on approach and advise us on how to approach construction the right way."

Robin , Certificate II in Building and Construction Pre-apprenticeship - Carpentry
Cutting Through: Why two students chose Carpentry
Cutting Through: Why two students chose Carpentry
STUDENT EXPERIENCE
Find out why current students Saara and Robin chose to carve out a career in the trade. Robin also discusses his favourite part of the Swinburne course and Saara shares some advice for women considering the traditionally male-dominated industry.
An undergraduate degree must be about more than just knowledge – it's also job readiness, professional experience and access to further opportunities.
We partner with leading Australian and global organisations to offer students authentic workplace experiences. Our degrees can include placements, internships, industry-linked projects, study tours and more. This is your chance to work on real-life projects, solve day-to-day challenges in your field and gain the professional skills that put knowledge into practice. You'll build invaluable skills and confidence, knowing you have what it takes to land a job by graduation or even before.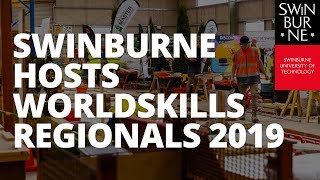 Swinburne hosts WorldSkills Australia Regionals 2019
Swinburne hosts WorldSkills Australia Regionals 2019
Held at Swinburne's Croydon campus on 28 August, the WorldSkills Melbourne East Regionals featured five competing teams showcasing their skills across five trades.

Download a course guide

Thinking of studying with us? Whether you are a domestic or an international student, we have a wide range of courses to suit your needs. Simply complete the form to download your course guide.

Book a one-on-one

Not sure which course is right for you? No stress. Book a one-on-one appointment with a course adviser for help with your application or advice on your study options.

Course planner

Begin planning the units you will study in your course.

Work Integrated Learning

Swinburne guarantees real industry experience in all our bachelor degrees in the form of placements, internships or industry-linked projects.