Nathan Loriente describes the life-cycle benefits of placing students at Metro Trains.
"Being a former Swinburne Professional Placement student in 2009, I know how valuable and successful this program is for both the student and the host organisation.
I'm passionate about bringing new blood into the railway industry and I've found that the highest performing railway engineers have come out of this program.
We get intelligent, competent and motivated individuals who take workload off the engineers and managers. This then frees our staff up to do their jobs at a higher quality level.
On top of this, most students decide they want to continue on in the railway industry, making the professional placement the perfect succession plan for engineers or managers who move onwards or upwards in their careers.
Our students have been doing a variety of tasks. They mostly assist engineers with planning, organising and delivering asset renewals or upgrades on works. This includes sleeper renewals, rail renewals, level crossing upgrades, ballast renewals and full track renewals. They've been involved in analysing technical data to ensure we're prioritising the right faults to be repaired. The students also perform a variety of administrative tasks which is familiarising them with the business or corporate world.
Out of the 20 or so people I've seen come through the professional placements program in rail, 14 of them have ended up having successful careers in the railway, many of them in senior positions after a few years."
©
Fergus, professional placement student, Metro Trains
"The great thing about having a student is that they don't hold as much responsibility as the engineers and managers in the business. This frees up their time to be able to innovate. They are using their technical knowledge gained from their studies to come up with new ideas that can make our existing processes easier, quicker, or more efficient.
One of the best things that we continuously see during these student programs is their ability to automate processes with their Microsoft Excel skills. This has saved us a significant amount of time when processing data.
Swinburne also focuses on sustainability as part of its engineering course content. This is great because every student always considers sustainability and has a 'life-cycle benefit' mentality which is somewhat lacking in the business world! The more people we can feed through the railway industry with this mentality, the better results we're going to have in the long term with performance of our infrastructure.
As students complete their 12-month placement while studying they are more experienced than graduates who may have not had industry experience."
"Graduates cost companies money for the first couple of years. Not Swinburne Professional Placement students! They're ready to add value from day one and can often command higher salaries than a regular graduate. This is why you can't afford to not go through the program!"

Nathan Loriente , Track Production Manager, Metro Trains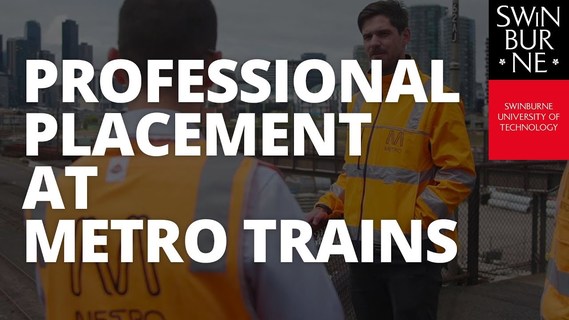 Professional Placement at Metro Trains
Professional Placement at Metro Trains
Follow Nathan's journey from professional placement student to Track Production Manager at Metro Trains.
Want to work with our students?
Contact us today to learn how your organisation can benefit from working with our talented students and graduates.
Contact us now