Peter Moran describes the civil engineer professional placement program at the City of Yarra.
"At City of Yarra we constantly look to attract new and innovative talent by providing support, guidance and career development within a diverse and inclusive cultural environment.
The Swinburne Professional Placement program has been a real success at the City Of Yarra. This is the second year of the program which has received excellent feedback from past students and our organisation."
©
Coordinator of Construction Development for City of Yarra, Peter Moran.
Each year we recruit three highly motivated, enthusiastic and diligent student civil engineers who want to challenge themselves in real engineering roles. Students are given support and guidance from team members and their assigned mentor. The students are accountable and responsible for designing/reviewing/auditing/reporting/inspecting in relation to associated operational engineering works and projects.

What really sets us apart from other industry placements is our rotation program, where each student spends four months before rotating in the following teams; Civil Works Team, Contract Management and Projects Team, and Traffic and Civil Engineering Team. During the program students will build confidence, experience and ability in the following areas:
project management
engineering design & solutions
construction management
contract management.
"Our organisation has greatly benefited from the program, with extra assistance to complete new and existing projects using the student's fresh ideas and approaches. It has also afforded existing staff the opportunity to develop themselves through interaction and engagement with the students."

Peter Moran , Co-ordinator of Construction Development, City of Yarra
"The program also provides a new recruitment pathway for the City of Yarra.
As we begin to structure a new graduate civil engineer program we also look to continue and grow the student placement program; we are considering other areas in our organisation (not just civil engineering) that could benefit from a student placement program. Watch this space!"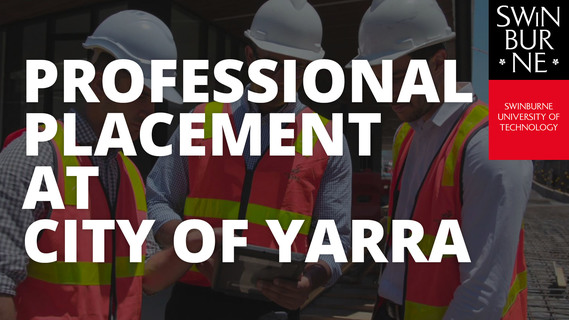 Professional Placement at City of Yarra
Professional Placement at City of Yarra
Follow Alex and Peter's professional placement journey at City of Yarra.
Want to work with our students?
Contact us today to learn how your organisation can benefit from working with our talented students and graduates.
Contact us now