The Early Leaders Program for Year 11 students
Build the confidence, skills and network you need to transition to university with ease. The Early Leaders Program is all about preparing you for your future.

Our Early Leaders Program allows you to explore your interests, hone your strengths, get clarity on your passions, and put some shine on your CV.
If you're studying Australian Year 11 in 2021, you can apply for the program, including VCE, VCAL and International Baccalaureate students, plus regional students and those outside of Victoria.
You'll gain valuable skills in academic writing, creativity, job readiness and community development.
There are a number of activities offered on campus, but you can also choose to complete the entire program online at your own pace — just as long as you finish by the final deadline in early October.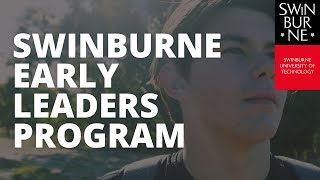 Swinburne Early Leaders Program
Boost your ATAR
To recognise your achievements, if you successfully complete the Early Leaders Program in 2021, you'll receive an ATAR adjustment when you apply to study with Swinburne. We automatically award one aggregate point for each completed category, up to a maximum of two points.
If you're interested in completing the Early Leaders Program and unsure if you'll receive this boost to your ATAR you can email us to find out: earlyleader@swinburne.edu.au.
Student experiences
Hear from our Early Leaders Paige and Matt! They share their experiences as Early Leaders and how it's made their transition into university a little less daunting.
How does the program work?
As part of the Early Leaders Program you'll complete two certificates — a core certificate, which is mandatory, and one of three elective certificates.
Core certificate
The research/academic skills certificate encourages you to self-assess and reflect on how well prepared you are for further study, as well as developing strategies for future academic programs.
Elective certificates
Students can choose one of the following elective certificates:
Creativity — undertake a creative project of your choice.
Community engagement — you'll gain recognition for your volunteer work within the community.
Career development — you'll participate in a number of career development activities at Swinburne and externally to assist you in your career exploration and decisions.
Workshops and seminars
We offer several workshops and seminars including:
Meet a Swinburne student — talk to a student studying a course you're interested in (offered on campus, Skype or phone)
Introduction to academic writing (offered as a webinar)
Career planning (offered on campus and as a webinar).
How to apply
Applications for the 2021 Early Leaders Program are now open!
Apply now
Have any questions?
Drop us an email to find out more about your options and which program structure will work best for you.
Email us